Tripawds is a user-supported community. Thank you for your support!
After bringing Buddy home from CSU last Friday, we had one night at home and then Mary and I hopped a plane for Europe. We left Buddy in the care of our son, with instructions on who to call and what to do if Buddy experienced any side effects.
Luckily, Buddy did quite well.
We have some security cameras on the outside of the house (Don't ask, we live in a wonderful neighborhood with almost no crime, but we put the cameras up anyway) and one of the benefits that we get is when we travel we can check in on them. So, we were able to check now and then and see that Buddy was walking just fine while we were a few thousand miles away in Stockholm.
When we got in last night, all 3 of the dogs were bouncing and of course very happy to see us. I happened to notice that Buddy was really using his back leg and moving as if nothing was wrong at all. This was confirmed this morning when I let them all out and watched Buddy tear off after a rabbit that was in the yard. (I don't think he really wants to catch them, as he seems to let off once he gets close, but he does like to chase them). I've been working from home today and all of the dogs have pretty much been here with me the whole time. Buddy has been very happy, and I've been watching him closely and he really is doing great!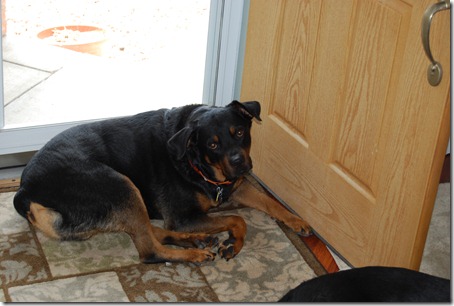 The swelling on his leg has gone down some, but not as much as I'd hoped it would by now. But, I guess that's why we have more than 1 set of treatment to go through. The good news though is that at least for now, Buddy is very happy and doing quite well on 4 legs!